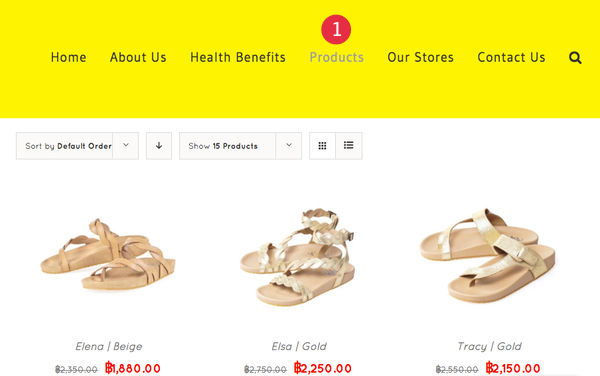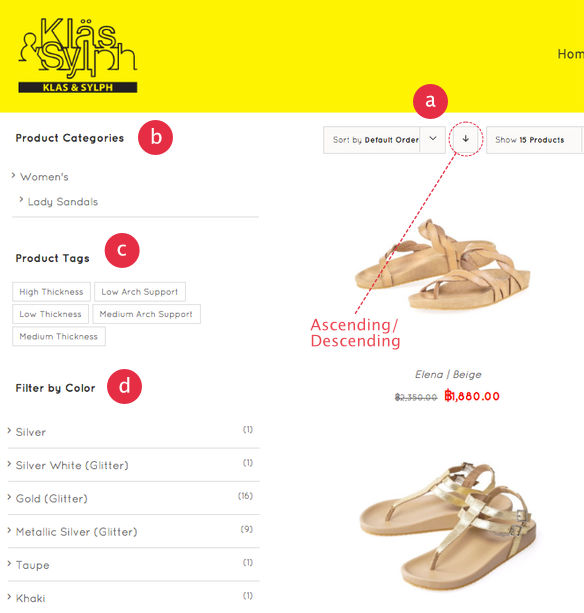 1) Click "Products" on the menu bar
2) Then, click the product that you're interested for more detailed information.
Please note that there are various tools that make your product selection easier on the Products page, such as:
a) Use "Sort By" Option

You can sort products by Name, Price, Date, Popularity, or Rating.
If you choose "Sort by Price", click at the arrow next to the "Sort by" dropdown box to have it sorted in ascending or descending order.
b) Product Categories
Narrow down your search by clicking on one of the product categories (or subcategories).
c) Product Tags
This tool helps you refine your search to be more specific such as certain thickness or level of arch support.
d) Filter by Color
This tool helps you search for products in specific colors.
Please note that if the design you really like doesn't come in the color that you want, you can always contact us to place a custom order.
Step 2:

 Select
Color + Sock Lining + Size
Once you're redirected to a page of the product that you've selected, you can specify your product specifications in the following aspects:
a) Upper Color
Click on the color palette for the color of your choice.
b) Sock Lining Material
Click to choose whether you want (1) microsuede or (2) microfiber as a material for your sock lining. Once you make a selection, you'll see a border surrounding your material of choice.
c) Size
Choose your size. Selected size will be in a darker shade of grey.

d) Size Guide
If you're buying Klas & Sylph footwear for the first time, please see our Size Guide for foot-measurement instructions (i.e. length, width, and fitting).
e) Specify Quantity & Add to Cart
Click '+' sign to increase or decrease the order quantity.
Then, click 'Add to Cart' button to proceed to checkout.
If you would like to purchase more than 1 pair of the product, you can increase the order quantity by clicking on the '+' sign or type directly into the quantity box. Then, click 'Add to Cart' button to proceed to checkout.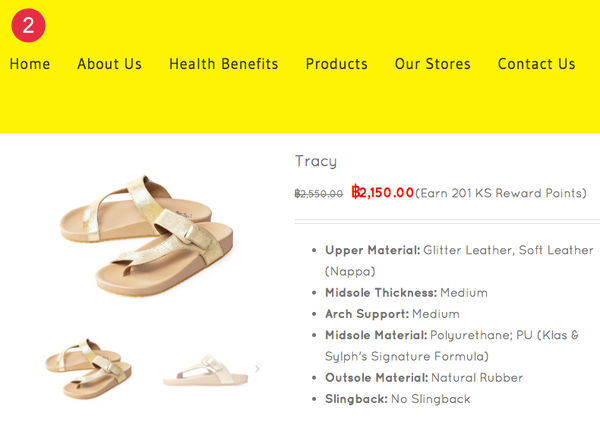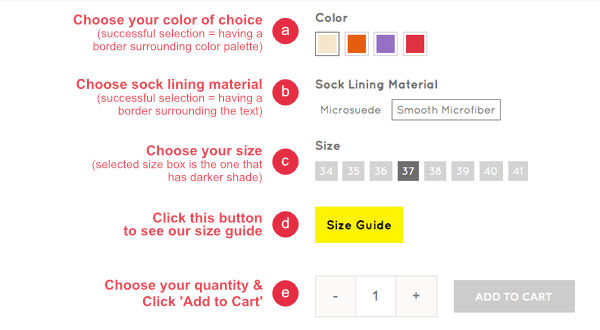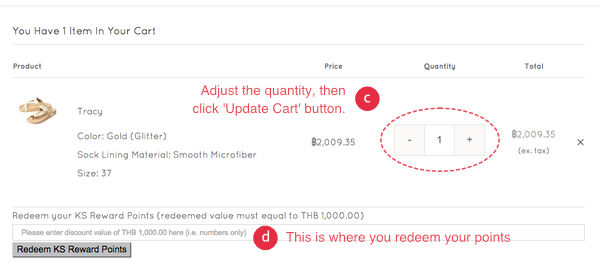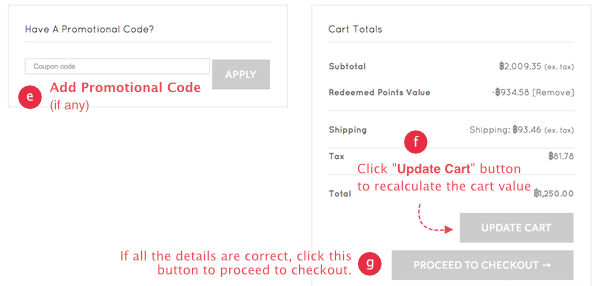 Here, you will see the following information and buttons:
a) Your KS Reward Points balance
b) KS Reward Points value
c) Option to adjust the order quantity
d) Option to redeem your point: Enter the redeemed value for this purchase and click the button 'Redeem KS Reward Points'
e) Add Promotional Code (if any)
f) Update Cart: If you make any changes about your order, please always click "Update Cart" button
g) Proceed to Checkout
Step 4:

Fill in Billing/Delivery Address + Place Order

On this page, you can do the following:
a) Enter your delivery address (if it's different from your billing address)
b) Choose your payment method
b-1) Direct Bank Transfer: you'll receive a cash discount of 2%.
b-2) Paypal: You can pay with your debit/credit card via Paypal.
c) Check the box to accept our Terms & Conditions in order to proceed.
d) Place Order: Click the button to submit your order to us.
Note:
If you've made your payment via

direct bank transfer

, you'll be redirected to our Thank You page after you press "Place Order" button.
If you've made your payment via

PayPal

, you'll be redirected to PayPal payment page on PayPal website.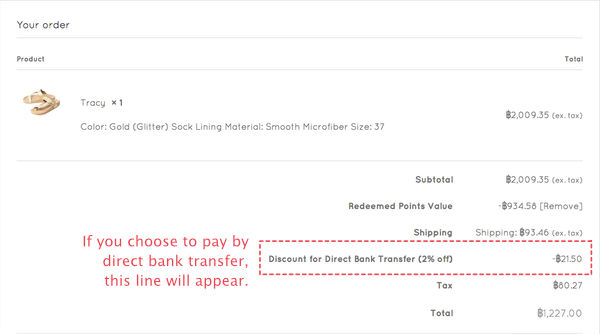 Making Payment via PayPal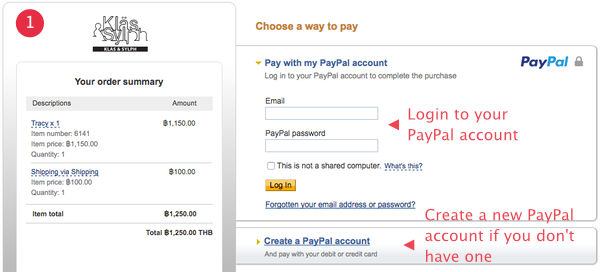 If you decide to make your payment with your debit/credit card via PayPal, you'll be redirected to PayPal payment page on PayPal website. Once you're on PayPal payment page, you'll have to take the following steps:
Login to your PayPal account (or register a new PayPal account if you haven't registered)
Click "Pay Now"
Your payment would then be complete!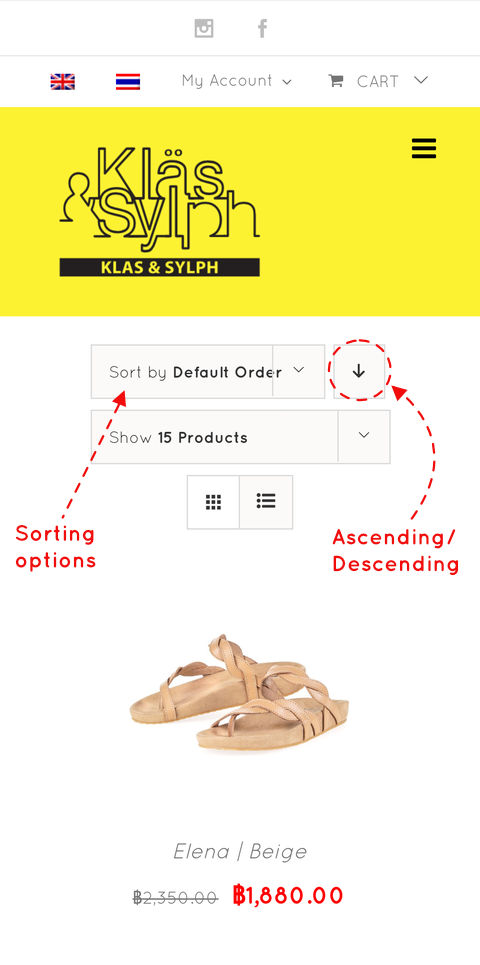 Step 2:

 Choose Color, Sock Lining, Size


Step 4:

Fill in Billing/Delivery Address + Place Order

Making Payment via PayPal
Step 1:

 Choose payment method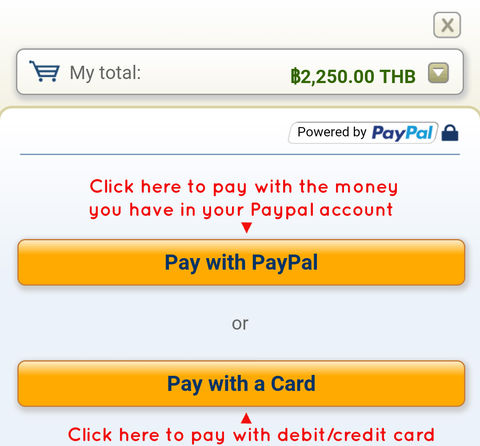 Step 2:

 Enter credit card information